I am a serious enthusiast of eye mascaras! After all, I'm one of those who believe that it is one of the most essential make-up products that exist and that immediately draw attention to one of our best features: the eyes. With more dramatic eyelashes, the eyes look bigger, brighter and even more defined. Who doesn't want something like that?
I have tested several eye mascaras and narrowed it to my top 5 favourites, those that I constantly repurchase and use on a daily basis!
Curious to see my picks?
Eu sou uma séria aficcionada de máscaras de pestanas! Afinal, sou daquelas pessoas que acreditam que é um dos produtos de maquilhagem mais essenciais que existem e que imediatamente chamam a atenção para uma das nossas melhores características: os olhos. Com pestanas mais dramáticas, os olhos parecem maiores, mais brilhantes e definidos. Quem é que não quer algo assim?
Eu já testei imensas máscaras de pestanas e
limitei-as às
minhas 5 favoritas
, aquelas que estou constantemente a voltar a comprar e que utilizo diariamente!
Curiosos para saber as minhas escolhas?
CK One Volumizing Mascara
The
CK One Volumizing Mascara
*
is one of those products that I only discovered a few months ago but immediately entered my favourites!
When I intend to give a bold look to my lashes, this is always my first choice! The curved peanut-shaped brush is designed for perfect coverage, with thick and well separated lashes... the trick is to apply the mascara from root to tip in a zig zag shape and, when reaching the tip, lengthen the lashes! Something I truly love about this mascara is that it leaves no lumps and, despite leaving lashes with an intense, thick look, it doesn't make them heavy at all!
A CK One Volumizing Mascara

*

é um daqueles produtos que apenas descobri há uns meses atrás, mas que imediatamente entrou para os meus favoritos!
Quando pretendo dar um ar intenso às minhas pestanas, esta é logo a minha primeira escolha! A escova curvada é desenhada para uma cobertura perfeita, com pestanas espessas e bem separadas... o truque é aplicar a máscara da raíz até à ponta num formato zig zag e, ao chegar à ponta, alongar as pestanas! Algo que adoro nesta máscara é que não deixa quaisquer grumos e, apesar de deixar as pestanas com um aspecto intenso e espesso, não as deixa de todo pesadas!
A minha cor é a 800 Black.
On the other hand, Benefit They're Real is an old friend! Despite the fact it doesn't give that much volume, one layer of this mascara is enough to leave you with very long, curvy and separated lashes! For an even fuller look, you can always build with more layers!
Personally, the only criticism I have to make is that this mascara takes a while to dry and as it lengthens the lashes, I notice that after some time it eventually transfers to the skin, so I end up with black spots all over, which does not give the most beautiful look!
Por outro lado, a Benefit They're Real é já uma velha amiga! Apesar de não conferir muito volume, com apenas uma camada esta máscara deixa as pestanas bem longas, curvas e separadas! Para um olhar ainda mais preenchido, podem sempre ir construindo com mais camadas!
Pessoalmente, a única crítica que tenho a fazer é que a máscara demora um pouco a secar e, por alongar tanto as pestanas, noto que ao fim de algum tempo acaba por transferir para a pele, acabando sempre com manchinhas pretas por todo o lado, o que não dá o aspecto mais bonito!
Prestige Curl Big Mascara
I have been using
Prestige Curl Big Mascara
*
for about a year now and I can state it is one of those mascaras I will repurchase over and over again! Its main feature is, just like the name states, the fact it leaves your
lashes really curvy
, while adding some volume at the same time! Something I love about this mascara is the fact that its innovative brush allows you to separate your lashes very well and at the same time makes them quite
flexible
! No doubt this is a fascinating mascara!
Já venho a utilizar a Prestige Curl Big Mascara

*

há cerca de um ano e posso afirmar que é daquelas máscaras que irei voltar a comprar vezes e vezes sem conta! A principal característica desta máscara é, como o nome indica, o facto de deixar as pestanas bem curvilíneas, ao mesmo tempo que confere volume! Algo que adoro nesta máscara é que a sua escova inovadora permite separar bem as pestanas e ao mesmo tempo deixa-as bastantes flexíveis! Sem dúvida que esta máscara é apaixonante!
Maybelline The Colossal Volum Express
Right when I bought Maybelline The Colossal Volum Express, I didn't need to look at the name to know I had in my hands a mascara meant to give volume to lashes! This mascara has a thick brush, with little space between the bristles (so that the liquid won't accumulate) and, let me tell you, iy gives a very dramatic effect to the lashes!
I didn't want to risk too much and end up with an artificial look so I got the colour Black, but if you want an even more intense look, know that there is 100% Black! One layer is enough and the product isn't sticky or leaves glued eyelashes, but I can say that in this version (which is not waterproof), the mascara ends up running a bit after some time.
Something very positive about this mascara is that it lasts for a very long time, although the affordable price allows to repurchase it with no remorse!
Logo quando comprei a Maybelline The Colossal Volum Express, nem precisei de olhar para o nome para saber que tinha ali uma máscara que pretendia dar volume às pestanas! Esta máscara tem uma escova bem grossa, com pouco espaço entre as cerdas (para que o líquido não acumule) e, digo-vos, dá um efeito bem dramático às pestanas!
Como não queria arriscar e ficar com um ar demasiado artificial, fiquei-me pela cor Black, mas se pretenderem um olhar ainda mais intenso, saibam que existe a 100% Black! Uma camada é suficiente e o produto não é pegajoso nem deixa as pestanas coladas, contudo posso afirmar que nesta versão (que não é à prova de água), a máscara acaba por escorrer um pouco ao fim de algum tempo.
Algo muito positivo sobre esta máscara é que dura imensa tempo, ainda que o preço apelativo permita voltar a comprar sem remorsos!
Revlon Lash Potion is the mascara that came to dethrone some of my previous favorites and even more so at a very affordable price!
In fact, it does seems a magic potion because it lengthens eyelashes a lot, without drying or leaving them heavy! If you want that look of false eyelashes that reach the sky, then this is the ideal mascara, I promise it won't disappoint you!
A Revlon Lash Potion é a máscara que veio destronar alguns dos meus anteriores favoritos e ainda para mais a um preço bastante acessível!
De facto, parece mesmo uma poção mágica porque
imenso
alonga as pestanas
, sem as secar ou deixar pesadas! Se querem aquele ar de pestanas falsas que chegam ao céu, então esta é a máscara ideal, prometo que não desilude!
11.90€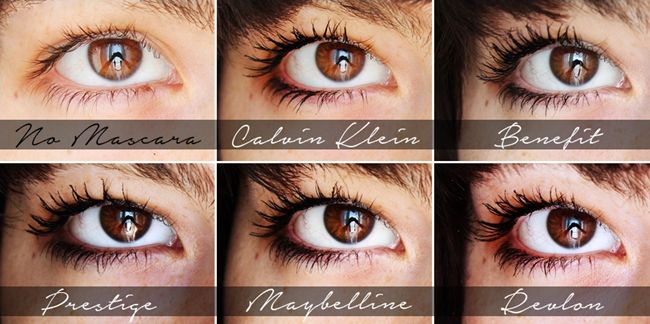 What is your favourite mascara? Which feature (curling, lengthen, volume,...) do you value the most?
Qual a vossa máscara preferida? Que característica (pestanas curvilíneas, alongadas, com volume,...) valorizam mais?